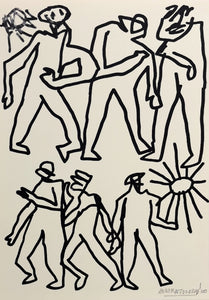 Print C - hjarntvzrrr
Print C by hjarntvzrrr
Digital print on paper, each copy is signed.
hjarntvzrrr is a graphic research project that was launched in 2015. 
The idea is to bring together the spontaneous creation process and the search for texture by scanning and printing to create poetic and absurd, contradictory and incoherent works. These works have been featured in fanzines and installations.
This series of prints are 'silent', hoping they will speak for themselves.